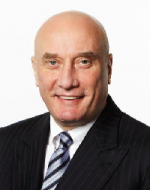 Pavel Maslovskiy
Chief Executive Officer

Petropavlovsk
Dr Pavel Maslovskiy co-founded the Company in 1994 together with former Chairman Peter Hambro. He held directorships within the Group – including the position of Chief Executive Officer, from the Group's inception in 1994 until December 2011, when he relinquished all remunerated positions following his appointment as a Senator-Member of the Federation Council (Upper House of the Russian Parliament).
Dr Maslovskiy retired as a Senator-Member in October 2014 and was re-appointed as Chief Executive Officer in November 2014, having acted as Honorary President from December 2011. He resigned from the Board and from the position of CEO in July 2017, and was re-appointed following the Company's AGM on 29 June 2018.
Prior to embarking on his business career, Dr Maslovskiy was an Associate Professor of Metallurgy at the Moscow Aircraft Technology Institute.