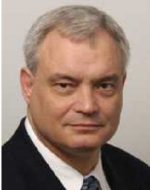 Chief Executive Officer

Amur Minerals Corporation
Mr. Robin Young is the CEO of Amur Minerals Corporation, the parent company of ZAO Kun-Manie. The Kun-Manie nickel copper sulphide project is located in Amur Oblast of the Russian Far East. Mr. Young's 43 years of experience in the mineral resources industry has included large scale internationally recognised projects located in remote areas as well directing significant additional work with multiple junior mining companies. Over his career, he has held positions of increasing responsibility within the exploration, development and production sectors including operations design, construction and operations throughout the world. Since 1980, he has worked throughout the international mining sector and been the Chief Executive Officer of two geological and mining consultancy companies. He holds the position of CEO of Amur Minerals Corporation and is a licensed Professional Geologist holding a Bachelor of Science degree in Geological Engineering. Having worked extensively in the Russian Federation since 1991 and completed Amur's acquistion of the Kun-Manie nickel copper sulphide project in 2004, his professional team has fully explored and begun compilation of the Permanent Conditions TEO. Leading a western based company, he has coordinated the requirements of the Russian Federation with that of western financial mine project funding agencies. During his career, he has been an integral part of four teams that have been listed project's on the London Stock Exchange.
09.10.2019 16:30 - Market Overview Session 2 | Main Hall
EV's and MiningThe Kun-Manie Nickel Copper Project
The development of the Electronic Vehicle industry is a rapidly and substantially impacting mine development throughout the world. With China, Japan and Korea being the world's largest nickel consumers and China also leading the way in the manufacture of batteries, Russia sits on the doorstep of the world's largest EV economies. This developing industry will significantly alter the nickel mining industry as well as the Kun-Manie project. An overview of the EV impact on Kun-Manie will be provided.