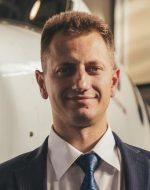 Andrius Butkus
Client Relations Manager

Heliport Moscow
Master of International Relations at St. Petersburg State University in Regional Studies (European Studies). After graduation in 2006, he worked in the fields of tourism, foreign real estate, and IT.
Since 2011, specialises in the field of civil aviation - business aviation and aircraft sales. Since June 2019, a customer service manager at the Heliport Moscow helicopter complex.
10.10.2019 11:30 - Business Podium 4 | Glinka Hall
Light helicopters in the gold mining industry
The main advantages of using light helicopters in such tasks of the gold mining industry are the urgent delivery of equipment and spare parts, the urgent transfer of personnel, medical evacuation or emergency flights to the accident sites. According to experience, in most cases all these tasks can be performed by a light helicopter with minimal acquisition and operation costs.