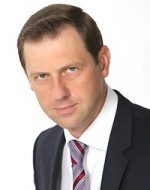 Roman Panov
First Vice-President

Gazprombank
Roman Panov is Russian top manager, expert in the field of project management and business processes optimisation.
CEO of Norilsk Nickel International Holding (2011–2013).
CEO – Chairman of the Management Board of JSC ''Rosgeo'' (2013–2019).
Since June 2019, Roman Panov holds the position of First Vice-President of Gazprombank, he is responsible for development of commodity assets.
09.10.2019 09:15 - Plenary Session 1 | Main Hall
Investment potential of the Russian mining sector: risks and opportunities
1. The prevailing market conditions determine the need for the mining industry to ensure sustainable reproduction of the mineral resource base.
2. Against the background of a decrease in the share of budget financing in exploration, the state creates the necessary conditions for the access of private capital through the application of the declarative principle and other mechanisms.
3. Instruments on the Russian market have a number of significant limitations.
4. License obligations, including those issued on a declarative basis, are not fully provided with the necessary funding.
5. Demand from subsoil users for financing of raw materials projects has prompted more active development of possible financing mechanisms, including through specialised venture funds, arranging access to stock exchanges, and attracting foreign direct investment.
09.10.2019 16:00 - MineInvest | Chekhov Hall